Child Adult Hat Rolled Brim Beanie Color: CHARCOAL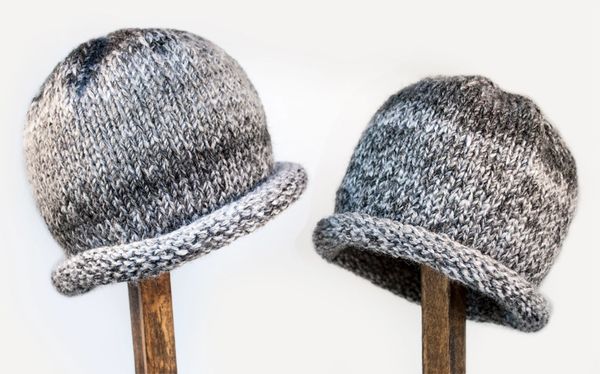 I hand knitted the hat with 100% acrylic yarn.
This type of yarn is a self-striping yarn, so the way the colored stripes come out will always be different for each hat. You can see the different striping effects in the picture of these hats, a small and medium. Your hat will be the same as the hats shown here as far as the colorways are concerned, but not exactly the same as far as the placement of the stripes.
Hand wash in cold or warm with mild soap, gently wring out, and lay flat to dry.
You can machine wash on the gentle cycle in a garment bag and then air dry, but I strongly recommend hand washing for a longer lasting hat.
This beanie hat is available in four sizes: Choose your size when adding to your cart, please.
Small - fits 1 month to 6 months, $22.00
Medium - fits 6 months to 2 years, $24.00
Large - fits 2 years to 10 years or petite adult, $26.00
Adult - fits average adult $28.00
Sorry, but there are no returns on hats. If you need to get a bigger or smaller size, I will gladly exchange it for you.